Cancun is a diverse and attractive city in Mexico that offers all kinds of vacation for travelers. Are you looking for things to do and see in Cancun for a spring break to remember?
An active excursion with friends or romance with loved ones in Crystal Water and Gold Sands is a Mexican paradise here, and a treasure trove of beautiful memories to build. With a secure connection to active nightlife and Latino culture, Cancun music and parties offer a fun taste of tradition.
Whatever you are looking for on vacation, Cancun will help you, here are our top 10 things to do and see in Cancun during your visit.
Try the new water sports
Do you want anything more for a beach holiday than an opportunity for a new adventure? Cancun has plenty of water sports, surfing lessons, speed boat rides, and a great place to go jet skiing. The stunning visibility and warm temperatures of the Caribbean Sea increase the chances of discovering a wealth of colorful marine life. Snorkeling or scuba diving in the blue water encourages visitors. You will feel the warm salty air on your face when you think about it.
More Information About These Adventures.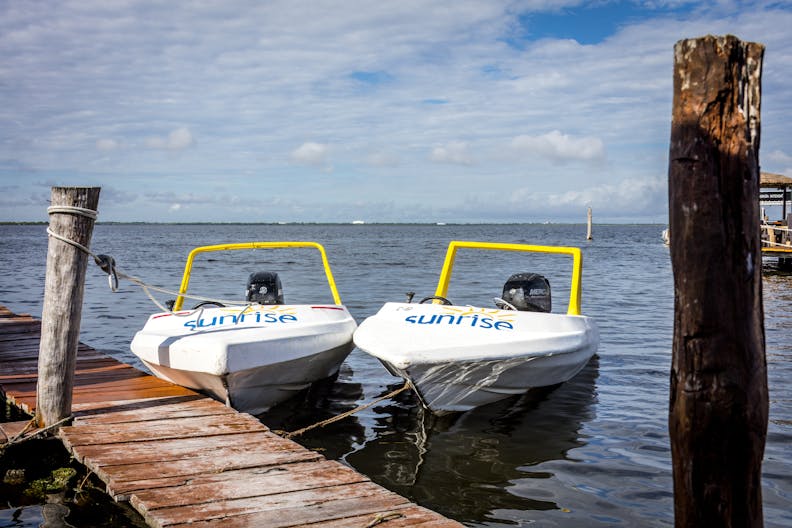 What is the Jungle Tour Adventure All About.
This a 2 seater speed boat that you can take around the Nichupte Lagoon Jungle. You then can go snorkelling in the Punta Nizuc coral reef if that interests you. Discover the Mangrove Canals. Non Swimmers will get special attention, So nothing to worry about here. Visit the Statues, For Intermediate Swimmers only
Guide Is Always There On The water
The Tour Will Last Approx 2 Hours
Snorkelling Gear And Life Jackets are provided.
Drive Your Own Speed Boat
No Boating Experience Required
It'll Be Just Driving A Car
Maximum 10 Per Group
Amazing Biodiversity
See more information about going speed boating here.
Visit Chichen Itza
Mayan ruins excavated on the Yucatan Peninsula make it an ancient populated city. Chichen Itza, one of the most visited sites in Mexico, has many structures, the most impressive of which is the step-pyramid in El Castillo, sometimes called the Cuckoo Temple. Built-in 440 AD, the walls of this structure provide a magnificent view of deep history. It is a great site to visit for those who want a cultural understanding of Cancun.
Go to Coba
The Coba Archaeological site is another excellent way to understand Yucatan history while traveling abroad in Cancun. Although it needs a whole day to get from the city to the site, it is well worth it. Guests can climb the highest point in the Mayan ruins, or they can rent bicycles and cycle around the site, as there are dozens of other structures around it, each with its history. This adventure is a beautiful way to connect a two-day adventure with an intellectual quest.
Tequila Herradura Sensory Museum
You can find out who, what and where Tequila is in the famous Cancun Hotel Zone. The national spirit of Mexico can only be produced in one area of ​​the country, and the Tequila Sensory Museum will delight your senses, taking you through modern and traditional ways of making this delicious and sophisticated drink. Depending on how much you drink on this trip and what kind of Tequila you would like to drink, it is entirely yours; And your pocketbook.
Go back in history and find out why Hasina San Jose del Refugio in Amatulan is home to some of the finest tequilas, and this Hasinda is part of a World Heritage Site. Find the right methods to drink Tequila, the culture behind it, and learn the art of how to distill Tequila. Enjoy, smell, and enjoy this recreational experience that expects you at the Tequila Herradura Sensory Museum.
Jetpack Cancun
Adventure Sports's latest adrenaline pumping, heart racing concept, jumping on the water and building a jetpack behind your back to gain popularity. Revolutionize the world of recreational water sports. Falling into a jetpack is as easy as riding a bicycle, though it does require a little courage. Most companies now offer this unique experience; Visitors choose operators in the city.
You can start the introductory lesson, and in half an hour, you are all trained and ready to go. Jump on the water, move into it, walk on it, and reach a height of thirty feet. You will be comfortable with a certified instructor who puts safety first and guides you. If injecting into the air above the sparkling blue water is not enough for you, try to learn the tricks when you step on the fly board and rise in the air. Cancun is a playground for the traveler full of adventure, and touch your heart with these unique, innovative, and unique experiences.
Video Showing You What The Jetpack Watersport In Action.
Swim with dolphins
Didn't get the scuba certificate? Do not worry, as there is still a chance to get closer to marine life in Cancun with troops that allow guests to swim with dolphins. It is an invincible sightseeing, a beautiful memory for anyone looking for a recreational holiday experience. It is a great way to interact with the delicate dolphins of the Caribbean Sea in a safe environment. Children with parents, guardians, can connect it to a lifetime activity, and you will miss it!
See the prices and what's included here.
Visit the ruins of Tulum
Considered one of the most beautiful Mayan ruins sightseeing around Cancun, this fantastic tour is worth a visit. The place is located on a sloping hill 15 meters above the Caribbean Sea's glistening Asura waters. There is also an entrance fee to the city, allowing visitors to explore the ruins, bath under the sun on the beautiful beach, shop at the coastal market, or take a bite to eat.
Arrive at the ruins in the early morning. You will not find a group of tourists and can watch the sunrise over the sea. Sprinkle the debris in the beach water and swim north. Snorkel and scuba dive operators are also on the beach, and there are plenty of sea creatures to explore and marvel at the spectacular cyanates surrounding the area. Rent a car, take a tour, ride a bus or bicycle, enjoy the history and culture of the Great city.
Xcaret Park
Xcaret Theme Park is one of the most popular tourist sightseeing in Cancun. With more than 40 attractions, this theme park offers culture, entertainment, traditional food, and many recreational activities to fill your day. Wildlife lovers will love Jaguar Island, the Manatee Lagoon, and the butterfly pavilions, where you will come face to face with these exciting creations.
Explore the three rivers that flow into the ocean. Tap into the Life Preserver when you discover pink flamingos, marine fossils, Mayan knots, and mangrove forests inhabiting the rocks that lead to the tunnels and caves. Watch and participate in many cultural shows that teach you the history of the Mayans and their lives. If you go to Xcaret at night for an infamous musical performance, be prepared to be amazed by the 300 artists who will take you on a musical journey through the history of Mexico. It is the place to spend a fun day of authentic recreational activities where everything is in one place.
Top 5 Activities at this park
Click Here To See What This Park Is All About
Cook in cannon style
Not your typical tourist attraction; Ken Cook at ConCon offers you a unique experience you will never forget. Chefs Claudia and Lorenzo serve small class sizes that specialize in authentic Mexican cuisine. Claudia and Lorenzo will make you feel like you are at your home with their lovely stories and warm weather.
You will learn a lot of recipes and cook with them all day sipping Tequila and enjoy it after dinner conversations and browsing the exclusive store on site. Meet new friends, gather new recipes and enjoy the most delicious food in Cancun. Finish the day with your last meal on the outdoor patio, overcoming the beautiful green grounds. Ken Ken Cook at Cancun is a unique experience that takes you away from the hustle and bustle of the city, introduces you to some fantastic local chefs, and completes your journey to Cancun.
Underwater Museum
The world's most popular underwater sculpture museum is located in Cancun Mexico. Designed in response to damage in local reef areas; The museum is a haven for coral reefs where marine life can thrive safely. The Underwater Museum offers beginners and sophisticated divers the opportunity to discover over 400 life-size statues. Snorkelling is also an option here, but keep in mind that the water will fade when you are busy, and the sculptures will look more remarkable when you are on their side rather than on top of them.
Discover the legendary "Man on Fire" sculpture. A coral statue covered with fire coral or an icon with several bottles of water messages of peace and environmental health, known as the "Colors of Dreams." The high density of sea creatures is not there yet, but if you bring your underwater camera and be a little patient, you can take some fantastic photos of art and sculpture.
Conclusion
Cancun Mexico Wild Spring Break offers more than just parties and sparkling hotels. Fourteen miles between white sandy beaches, magnificent Mayan ruins, and the sparkling blue waters of the Caribbean, we urge you to explore this Cancun paradise. From eco-theme parks exploding in activities to extreme water sports to Tequila, the city is full of sun, sand, and adventure. Explore the history of the Mayans through ancient ruins, tombs, and cultural exhibits. Discover Cancun's hottest nightclub with provocative shows and extravagant outfits.
Find the right place for the city to relax and escape and find all the sea creatures below the surface. It is the perfect guide to the cultural journey of things to do and see in Cancun while you live in this mighty city.
More Great Posts To Read.

21 Super Bora Bora Facts, History And Tips
10 Cheap Places To Travel In The US